Scale, Corrosion Inhibitor & Dispersants for Open Cooling Towers with High Scaled, Hardness & S.S. Make Up Levels
Description & Use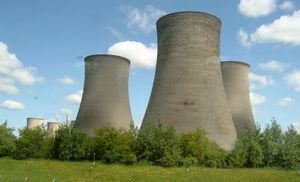 Excellent for system with long holding times and high water temperatures.

Prevents corrosion and scale deposition in open cooling towers.

pH control not required.

Contains synthetic dispersants to control suspended solids.

Simple to apply and control.

Does not promote bacterial growth.
Specification
Appearance : Clear, colorless liquid.

Specific Gravity : 1.12 - 1.18.

Solubility in Water : Complete.

pH @ 25 oC : 1.0 approx.

Flash Point : Non-flammable.
(All values approximate)
Dosage, Feeding & Control
Mercy Cool 2601 is normally fed to supply a corrosion & scale protection for open evaporative cooling towers.
Mercy Cool 2601 contains a blend of organic inhibitors synthetic dispersant with a high performance to deal with a high levels of suspended solids in the make up water. It can maintain the system to keep high heat transfer efficiency.
Mercy Cool 2601 can be dosed by a separate dosing pump on the make up feed line to give the needed reserve of oregano phosphates inside the cooling water.
The correct treatment level depends on operating conditions such as pH, cycles of concentration, temperature and the bleed rate.
Packaging
Mercy Cool 2601 is packaged in 28 kg and 224 kg plastic drums.
Safety & Handling
Mercy Cool 2601 is acidic & corrosive. Thus; it should be handled carefully.
Do not store with any of Alkaline materials or with Sodium Hypochlorite.
The wearing of gloves and goggles is recommended.