R/O Antiscalant/Antifoulant
Description & Use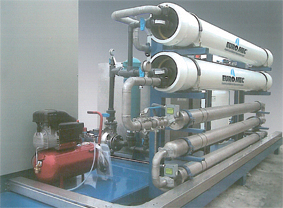 Prevents scale formation on Reverse Osmosis Membranes.

Non-toxic liquid suitable for automatic dosing, and for use in potable water treatment plant.

Effective against sulphate and carbonate scales.

Proven to be more effective than competitive products under a wide range of conditions.

Cost-effective liquid concentrate.

Should be used in presence of acid dosing.
Specification
Appearance : Clear, colorless liquid.

Specific Gravity : 1.09 - 1.13.

pH @ 25 oC : 6.5 - 7.6.

Flash Point : Non-flammable.

Solubility in Water : Complete.
(All values approximate)
Dosage, Feeding & Control
Mercy Pure 5100 is a liquid formulation based upon phosphino-carboxylates, which are extremely effective in preventing scale formation on Reverse Osmosis membranes.
Detailed studies have shown that Mercy Pure 5100 is considerably more effective than many competitive products at controlling carbonate and sulphate scale formation under a wide range of conditions.
The correct dosage rate is dependent upon several parameters, including feed temperature, pH, and chemical analysis, and will be specifies by your B.R.E consultant after a detailed survey of your plant.
Packaging
Mercy Pure 5100 is packaged in 25 kg and 200 kg plastic drums.
Safety & Handling
Mercy Pure 5100 is non-irritant, non-hazardous, but it should be handled carefully.
The wearing of gloves and goggles is recommended.
Do not store above 40 oC or below 0 oC.